Young dane opens 2021 account in Luxembourg
Telefónica-backed squad's perfect job, including a stellar Leah Thomas, leads out young Danish champion towards back-to-back wins in Garnich, final yellow jersey. Movistar Team up to 9 victories in 2021 -five for the women's team-
The Movistar Team had never completed a women's stagerace in the incredibly successful way they did this weekend at the Festival Elsy Jacobs (UCI ProSeries) in Luxembourg. Emma Norsgaard capped off at Garnich, venue for a hilly, difficult stage two (105km), a fantastic hat-trick of victories by claiming the final sprint of the race and adding the GC, conquered in style.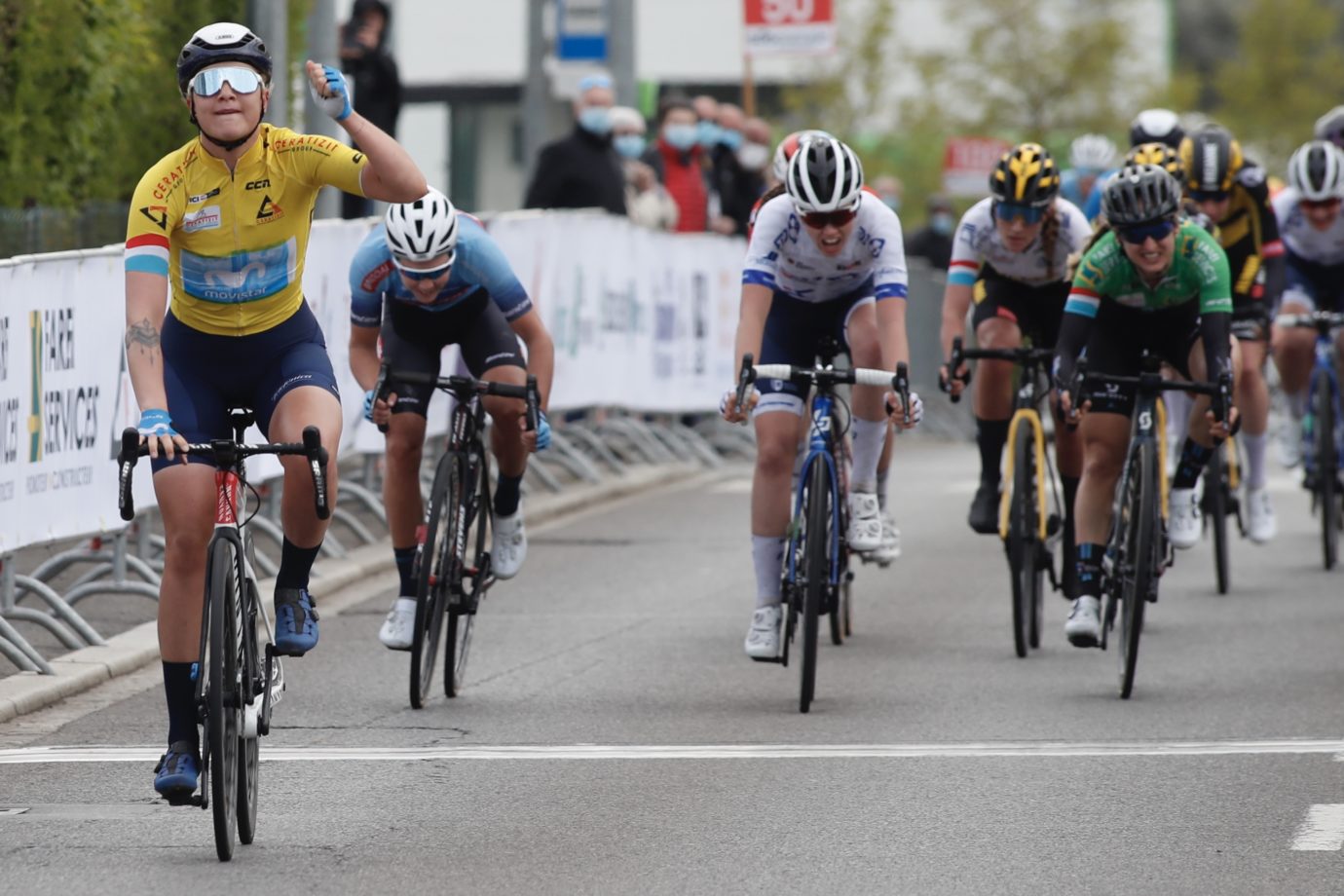 The squad directed by Jorge Sanz at the Great Duchy showed themselves solid and fully commited to the day's task. Alba Teruel, Barbara Guarischi, Aude Biannic and Lourdes Oyarbide took care of Norsgaard into the first half of the race, while Leah Thomas guided her through to the last kilometer, covering her from the wind and following every single attack, without ever showing any cracks. At the sprint, Emma found the right moment to jump and take the better from Italians Maria Giulia Confalonieri (WNT, 2nd) and Sofia Bertizzolo (LIV, 3rd).
Norsgaard's fantastic tally this weekend takes Abarca Sports' account in 2021 up to nine victories. The score currently shows the women ahead of the men (5-4) after an unforgettable weekend, for all kinds of different reasons, for the Movistar Team led by Eusebio Unzué.
REACTION / Emma Norsgaard:
"I'm so happy for this overall victory! I'm so happy to have chosen to join this team last year, and they are working so good for me since the very start of the season, it's so impressive. I'm so, so proud, both of myself and the whole team.
"I was together with Leah the whole day, and when we went in the break together, she really supported me the whole way, especially in the climbs – wherever was a gap, she closed it down and made things easier for me. Leah is a big part of today's victory.
"I felt super-great today, even better than yesterday, so I just felt like I was on top of the race – and then, I had the best team-mates ever! So I had no doubt I would make it into the climbs and going into the break."
RESULTS > Stage 2 + Final GC
---
Saturday 1st May – Stage 1: Steinfort (125.1km)
Emma Norsgaard (Movistar Team) put an end on Saturday, on stage one of the Festival Elsy Jacobs (UCI ProSeries) in Luxembourg, to an almost endless streak of good places without a victory she's long deserved. The 21-year-old Danish champion took a resounding success at the group sprint in Steinfort, taking the yellow jersey as GC leader in the process, to pay back after magnificent efforts from all of her five team-mates.
Barbara Guarischi, Lourdes Oyarbide and Alba Teruel kept the 'Danish Rocket"s powder dry all day, sheltering her from the winds and following all the moves at the front of the peloton behind the early break, alongside Leah Thomas. The Californian would later cap off that work – together with Aude Biannic, entirely focused on guiding Norsgaard through the field – with a spectacular leadout, leaving no chance to the other big teams, and setting Emma perfectly as she won with a big gap against Confalonieri (WNT, 2nd) and Kirchmann (DSM, 3rd).
It's Norsgaard's fourth UCI win, the Silkeborg native having previously notched up two national road race titles -including the current, 2020 one- and stage one of the 2020 Setmana Valenciana. This one will surely help the Nordic youngster unleash her power over the next few months.
REACTION / Emma Norsgaard:
"When I crossed the finish line I actually felt more relieved than happy, I was like "finally", the feeling that I've been waiting the whole season to this victory so first it was relief, but then I saw my team mates and then I was so happy, they did an amazing job for me today, they all sacrificed themselves for me today so I'm super proud of this team, it's amazing to be part of Movistar Team.
"It was awesome, because we had a talk before the race about how it could be and they just did it perfectly. We almost didn't talk about it in the moment and they came flying on the last corner and positioning me perfectly, I went on the wheel and everything was just perfect, I had the perfect finish, and this is what made the victory.
"I wasn't calm during the stage, I felt I wanted to do something, I wanted to go in the break but Aude was really good at calming me down, she said: 'Emma, relax, you need to wait.' So I tried to wait but it was a bit difficult to be honest.
"I want to dedicate this victory to the whole team, at 100%, they always go so hard for me, they always sacrifice and finally it's not for a second place anymore.
"We are going to try anything to defend my leader's jersey, it can be super hard but now I have a lot of confidence, and I think the team is happy and confident, so tomorrow is going to be fun, as well as a 100% effort."
RESULTS > Stage 1 + GC
---
Friday 30th April – Prologue: Cessange (2.2 km)
At a technical, hilly route -with a tough, initial slope- where even some riders opted to used their road bikes and not the TT machines, Dutch sprinter Lorena Wiebes (DSM) became the first leader of the Festival Elsy Jacobs (UCI ProSeries) with a 3″ gap -a remarkable difference at a TT less than 200 seconds long- over her team-mate and Canadian champino Leah Kirchmann (3'12 v. 3'15").
Also within ten seconds of the winner finished two of the Movistar Team's riders: Emma Norsgaard, whose 3'19" was only seven seconds slower than Wiebes' in 10th place, and Barbara Guarischi, who ended up in 13th, a second after her team-mates. The Luxembourgish race is always a tight one, with its weekend stages -around Steinfort on Saturday, then Garnich on Sunday- over an endless succession of short ascents.
RESULTS > Prologue
Cover picture (c): Photo Gomez Sport