Clásica Féminas de Navarra
Two strong attacks from the European champion -the last one, in unexpected fashion, with less than 2km left- leave Miek just short for success again at Movistar Team's home region; Sheyla Gutiérrez shines with great support.
With Annemiek van Vleuten, attitude is non-negotiable: attacks are to be expected. Fans could again enjoy another big show from the brilliant Dutch rider of the Movistar Team at the 3rd edition of the Clásica Féminas de Navarra, a 125km hilly course around Pamplona, with eight climbs -shorter, steeper than those in her win, a day earlier, in Lekunberri– that saw her never stopping trying.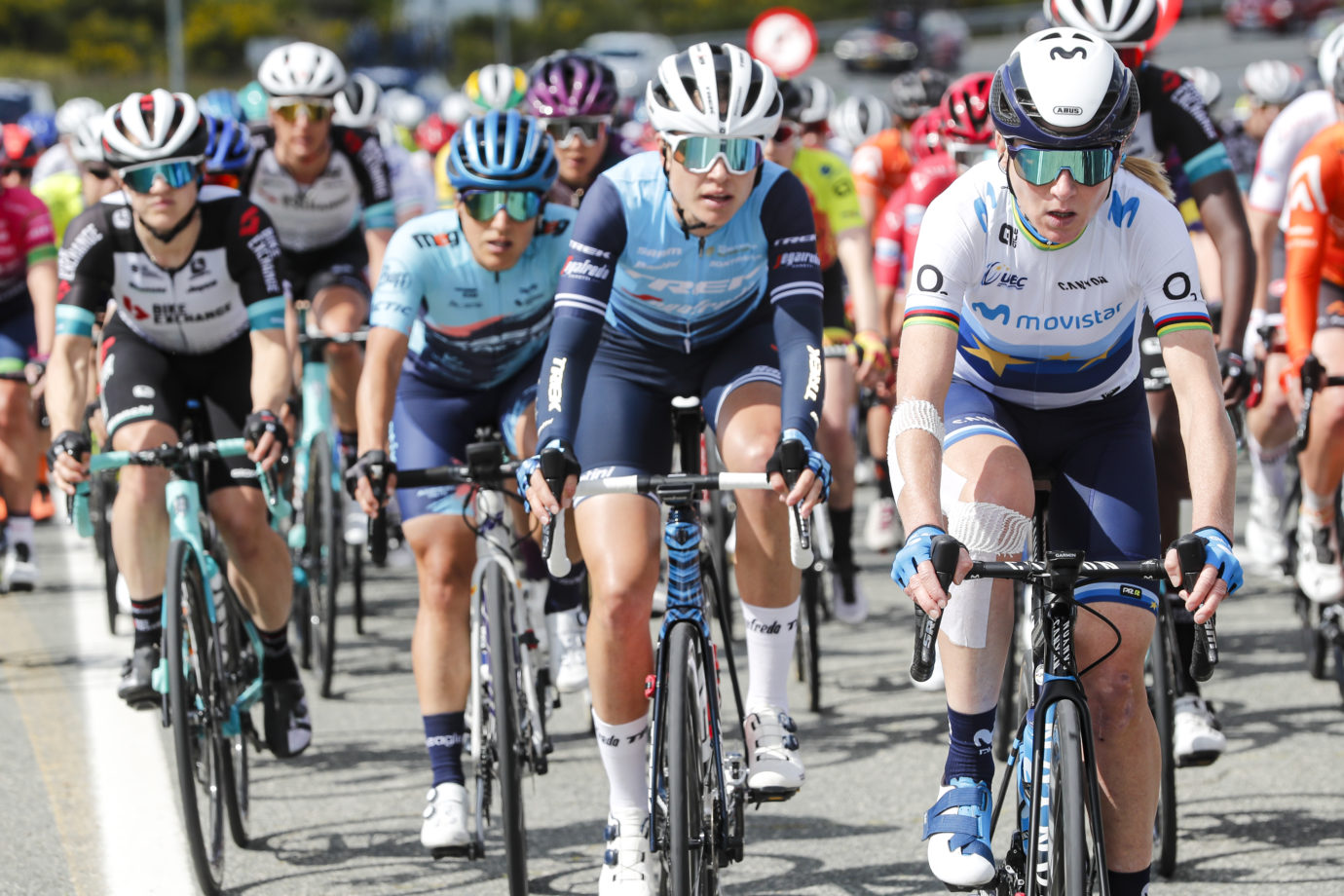 The European champion was well supported through a race not as lively as in 2020, with Oyarbide, González, Erić and Martín covering her well before a fantastic leadout from Sheyla Gutiérrez before Van Vleuten's first attack in the penultimate 'muro', Zariquiegui, with about 15km to go. There, Annemiek got herselt into a four-man elite group with Cavalli (FDJ), Moolman (SDW) and Longo Borghini (TFS), although the reaction from the bunch neutralized the attempt and 'forced' Van Vleuten to seek for her chances all the way to the finish. A final move into a little slope, just 1.5km from the end, left her at the front until the last 150 meters, eventually overtaken by Arlenis Sierra (MNX, 1st) and Ruth Winder (TFS, 2nd).
The Blue outfit, again with 'Miek' as main protagonist, will travel this very Friday to Biscay before Sunday's GP Ciudad de Eibar, which features a beautiful, legendary finish atop the Santuario de Arrate.
REACTION / Annemiek van Vleuten:
"I always like to see opportunities to attack, especially in the finale. It was 2k to go, when everyone came back together as we entered Pamplona, and with all sprinters there -I knew Sierra was way faster-, I just wanted to take advantage of all chances. I saw a little bridge, and that's where I went all out before the sprint. I'm proud and happy that I gave it a try. I tried to also be aggressive on the second-to-last climb, after a really great leadout from Sheyla. She stretched it all out, which was part of the plan. SD Worx weren't super keen to ride after we created that selection and it all came back together.
"I could feel yesterday's effort, especially with the rain in the legs and the injuries from Valencia. You always feel smashed, especially after a rainy day. The girls that some endurance recover well, and I'm really not one of them, but I always try to think that, when I feel pain, some rivals will feel worse.
"I don't know if I have climbed Arrate – maybe I did in Bira, because I've raced in Eibar, but for sure I didn't finish there. I have watched the Itzulia finish five times, where Alejandro took the final corners in a really smart way. I'm prepared for the finish."
Cover picture (c): Photo Gomez Sport
Male Team
13 - 14 May
(2

nd

Stage)
Pamplona
(125.8 km)