Tour de France (finale)
Hampered by crashes from day one, Telefónica-backed squad get close to victory several times with Cortina, Valverde and Erviti; repeat top-ten overall result with Enric.
The 108th edition of the Tour de France, back to July after exceptional circumstances lived by everyone in 2020, reached its last finish line in Paris' Champs-Élysées on Sunday with a second consecutive overall victory by Tadej Pogacar (UAD) en la general. Wout Van Aert (TJV) claimed the day's honours at the inevitable bunch sprint in the world's most famous avenue.
The Movistar Team completed their 39th appearance in the French grandtour as they confirmed their sixth spot overall, earned with hard efforts throughout the last three weeks, with Enric Mas, who finished in a GT top-ten against the world's best for the third time on a row.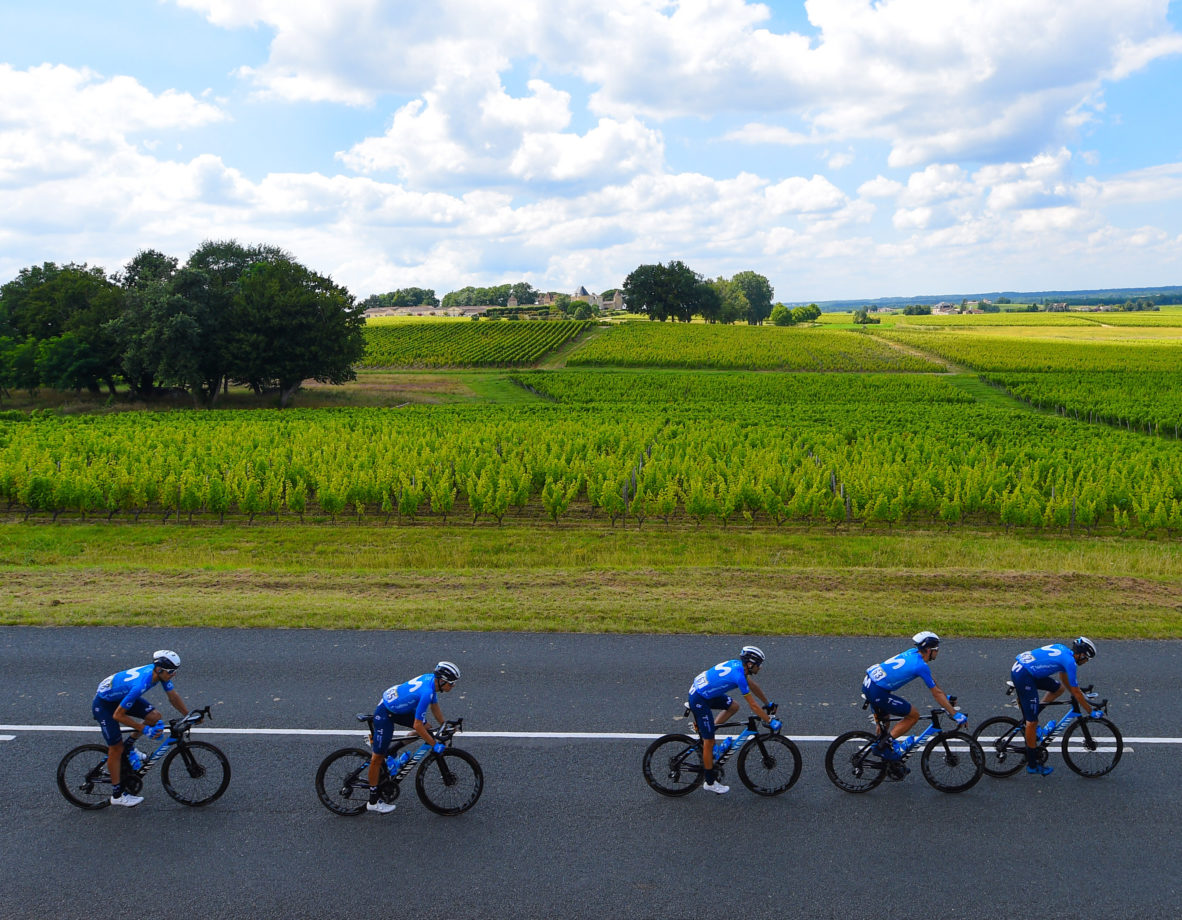 The Telefónica-backed squad was far from showing their best level due to numerous setbacks suffered already since the Grand Départ in Brittany. Other than Soler's early exit, the blows really hampered the chances of two of their strongest riders for the mountains: Miguel Ángel López -several times to the ground on week one- and Carlos Verona -seriously hurt at a crash on stage seven-.
Despite those problems, and while they supported Mas, the Blues never stopped trying, more visibly during the second half of the race. Two 2nd-place stage finishes -with Erviti, in Nîmes, and Valverde, in Andorra la Vella- and another two 4th-place results -those by Mas, atop Luz Ardiden, and Cortina, the one closest to the win, in Carcassonne- carried the Movistar Team flag at the 2021 Tour, which they hope to bounce back from next year as they reach their 40th appearance in France.
FINAL OVERVIEW / Enric Mas:
"We leave the race with a sixth place and a bitter taste, to be honest. I did well at certain stages, especially that final mountain day in Luz Ardiden, yet I missed the mark at two stages which ended up being key. Both at the Mont Ventoux and the Col du Portet, I felt my legs really 'blocked'; I'm a rider who uses a fast pedaling rate and I wasn't able to keep my legs quick that day. I don't know if Wednesday's stage went worse due to higher humidity – I don't really know, but we need to find a solution to those bad legs I had on both days and improve for the future."
"The whole squad was excellent all race; we were a bit unlucky, since we lost Marc already on stage one, then Miguel Ángel suffered many crashes – that's cycling, it is what it is and this is part of my learning process for the future. My plans for the upcoming weeks? For the time being, I will be staying off the bike for a week, then get back into altitude training mode and focus on La Vuelta at 100%, just like I did for the Tour, so we can chase that GT podium."
Cover picture (c): BettiniPhoto