UAE Tour (st. 1)
Big split at inaugural stage towards Al Mirfa take Valverde, Mühlberger out of GC contention, put Van der Poel (AFC) into an early lead in the desert.
/ Today's route
The 2021 UAE Tour started on Sunday with a 176km route from Al Dhafra Castle to Al Mirfa. A flat course, suited for the sprinters, which nevertheless, as it's usual in the desert, would be severely affected in its outcome by the crosswinds.
/ Weather report
Gusts were constant, around 25-30kph, usually a head-crosswinds, yet with some sections more favourable for echelons to form. It was otherwise a classic day at this part of the world and year, with sunny skies and temperatures around 25ºC.
/ Keys to the race
Two significant series of splits would lead to the incredible gaps in the end. The first echelon attempt, right from the start, forced the Movistar Team to chase and help Alejandro Valverde to make up about 50″ with the small leading group. The second one, originated after the intermediate spritn (65km), was the most important, with a 1'30" gap between a first peloton of 26 riders -with five Deceunincks, four UAE riders (Pogacar), Adam Yates (IGD) or Van der Poel (AFC)- and the bigger, second field, including the Movistar Team riders.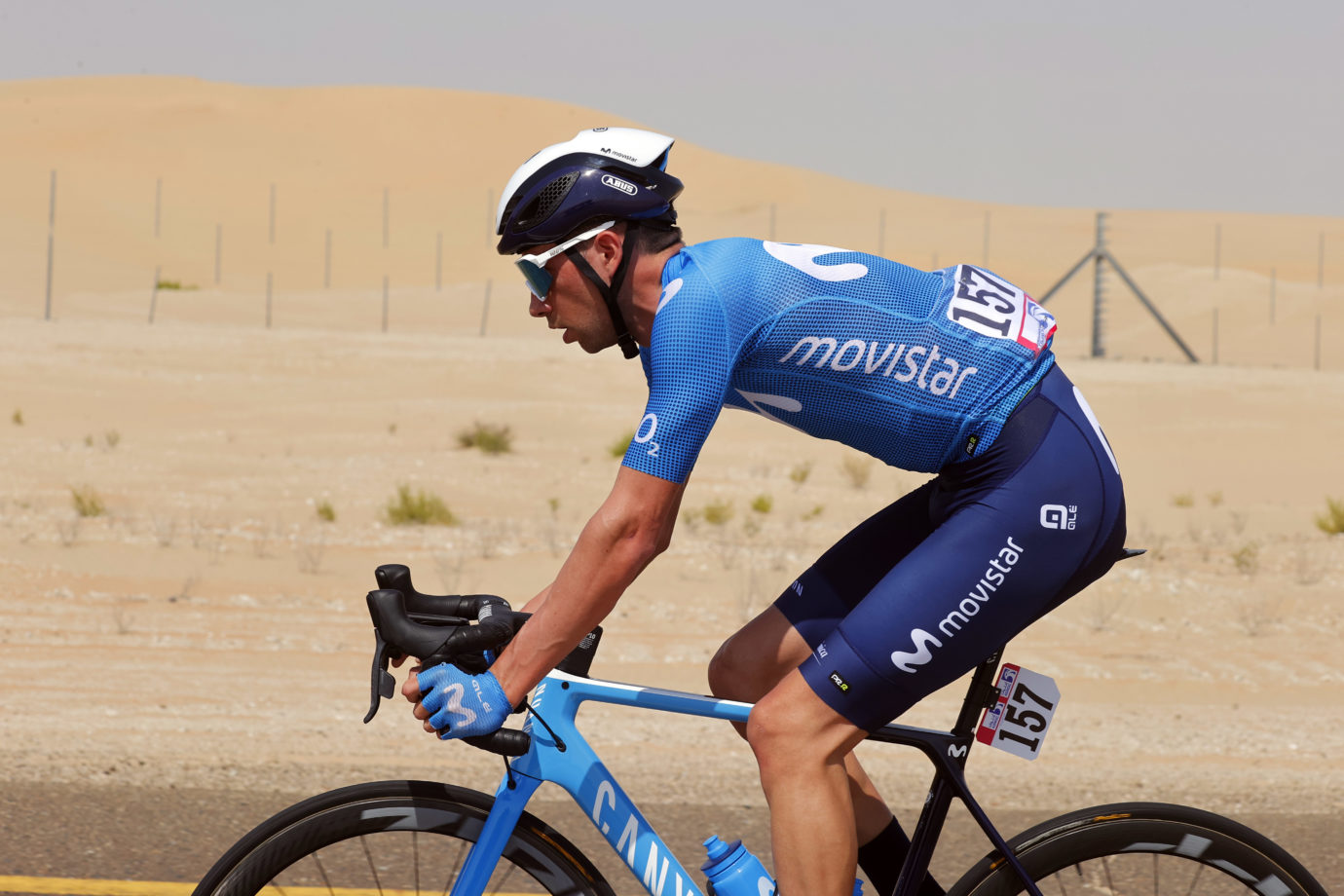 Despite strong turns by Iñigo Elosegui and Albert Torres, as well as other team-mates, to try and bridge the gaps alongside the other teams with no riders ahead, the 26-strong group reached the two local laps around Al Mirfa (-37km) with more than two minutes over the next two groups. Valverde and Torres rode at the G2, with Gregor Mühlberger, Antonio Pedrero and Davide Villella just behind.
The chasers eventually surrendered and gaps soared, which left no chance in the GC to anyone outside the twenty riders who finished together at the front. Mathieu van der Poel (AFC) won the stage en route to the first leader's jersey, with more than eight minutes over Valverde's group. The Movistar Team will now have to switch their focus towards chasing stages and featuring in the race as of Monday.
/ Upcoming goals
The Emirati stagerace features a 13km individual time trial at Al Hudayriat Island on Monday. It's a perfect course for the specialists, with no technical sections and open turns. The first mountain-top finish, Jebel Hafeet, will be tackled on Tuesday.
– TT start order (Monday 22nd, UAE time, CET = -3): Torres 14.01, Valverde 14.21, Villella 14.39, Mühlberger 14.57, Pedrero 15.16, Elosegui 15.35, Carretero 15.52
Cover picture (c): BettiniPhoto