La Vuelta (st. 16)
Long sprint from former World Champion sees Bala coming close to glory as Cort (EF1) surges to victory, Roglic (TJV) increases his GC lead before La Covatilla's showdown.
/ Today's route
La Vuelta was heading into its decisive weekend with two difficult mountain stages, the first of which would take the peloton through the provinces of Salamanca and Cáceres. 162km with two significant climbs in its second half: El Portillo (Cat-2) and El Robledo (Cat-1), the latter crested with 36km from the finish, with several other little climbs in between.
/ Weather report
The winds from the southeast, quite intense (sustained gusts of 20kph) especially in the beginning and end of the stage, were the main hardening factor of a stage not as difficult from a weather standpoint as Thursday, quite cloudy yet with no rain. 12-13ºC all day.
/ Keys to the race
Six riders got off the front early on: Osorio, Madrazo, Ezquerra (BBH), Goossens (LTS) and Stannard (MTS) + Cavagna (DQT), who revealed themselves as the strongest of a group which wasn't allowed more than 5'30" on the main field. The work by INEOS from the downhill of the El Portillo climb helped reduce the gaps drastically to under one minute at the ascent of El Robledo.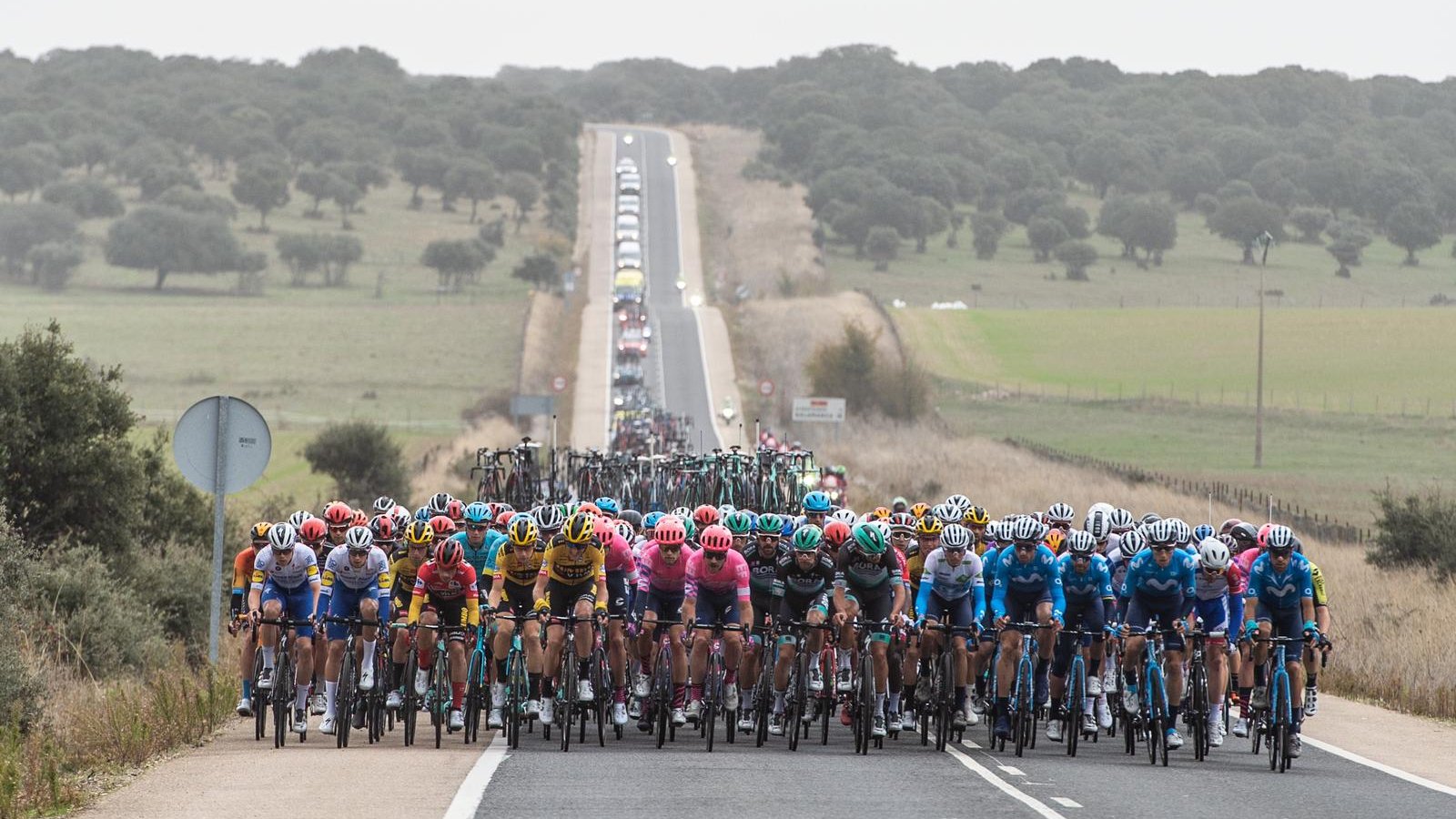 With the break almost in sight as they crested the final climb, Cavagna left Stannard behind and launched himself into a solo move with just a handful of seconds over a bunch seemingly unable to bring him back. The Movistar Team, which reached the top of El Robledo with all of its eight riders into the short field of GC contenders, took the lead of a main echelon where INEOS also picked up the pace at some sections. The work by Soler, Verona, Erviti, Arcas and Oliveira was fruitful, as Cavagna was caught with just 2km to go.
Supported by Erviti and Rojas as they entered Ciudad Rodrigo, Alejandro Valverde was forced, after a late move from Armirail (GFC), to launch a really long sprint he finished in 4th place, behind Cort (EF1), race leader Roglic (TJV) y Dion Smith (MTS). Other than Roglic's bonus seconds, the GC remained unchanged, with Mas in 5th and Valverde in 8th.
/ Quotes
José Joaquín Rojas: "I think the main characteristic we've shown as a team during this Vuelta a España is that we never surrender. We had checked this stge beforehand and we had a plan to try and help Enric to gain some time after the final climb. We tried to split the peloton into the crosswinds at some sections, yet we were unable to create those gaps, and then, seeing that it was coming down to a sprint, we tried to take advantage of that opportunity with Alejandro. He told me near the end: 'Go for it, that sprint is for you!" However, I feel like, on the one hand, he's earned those chances for glory after everything he's done, winning left, right and center, and on the other hand, it was already tough for me to help him out. We've got nothing to lose tomorrow. A fifth place overall would be nice, yet we came here to win the race and we'll try to go for the podium. If we get it, fantastic; if not, we'll 'die' trying it."
Enric Mas: "First of all, I'd like to apologise about my comments after yesterday's stage. I said that no stages like yesterday's were necessary at a Grand Tour, and I was wrong. I thought it through last night and I'd like to apologise, because La Vuelta and everybody here is making big efforts to carry out this race, and having a rider complaining like that is disgusting. A final chance tomorrow – a really difficult stage, hopefully with good weather. Let's enjoy it and leave our mark. Taking a fifth, sixth, tenth place overall won't change anything in my career, but it will really make a difference if we're able to gain any places. It's true that there's not much terrain to make gaps, but if circumstances are right, we'll be able to hurt our rivals."
/ Upcoming goals
… And it's showdown time in the 2020 La Vuelta on Saturday! There will be basically no flat roads in the 178km stage 17, from Sequeros to the Alto de La Covatilla (HC), a 11.4km, 7.1% avg. climb to end a day with five other categorized ascents, including the Portillo de las Batuecas (Cat-1) and the Garganta (Cat-2).
Cover picture (c): Photo Gomez Sport
Male Team
20 Oct - 08 Nov
(16

th

Stage)
Salamanca - Ciudad Rodrigo
(162 km)