Equipment
Discover the high-end products by our technical partners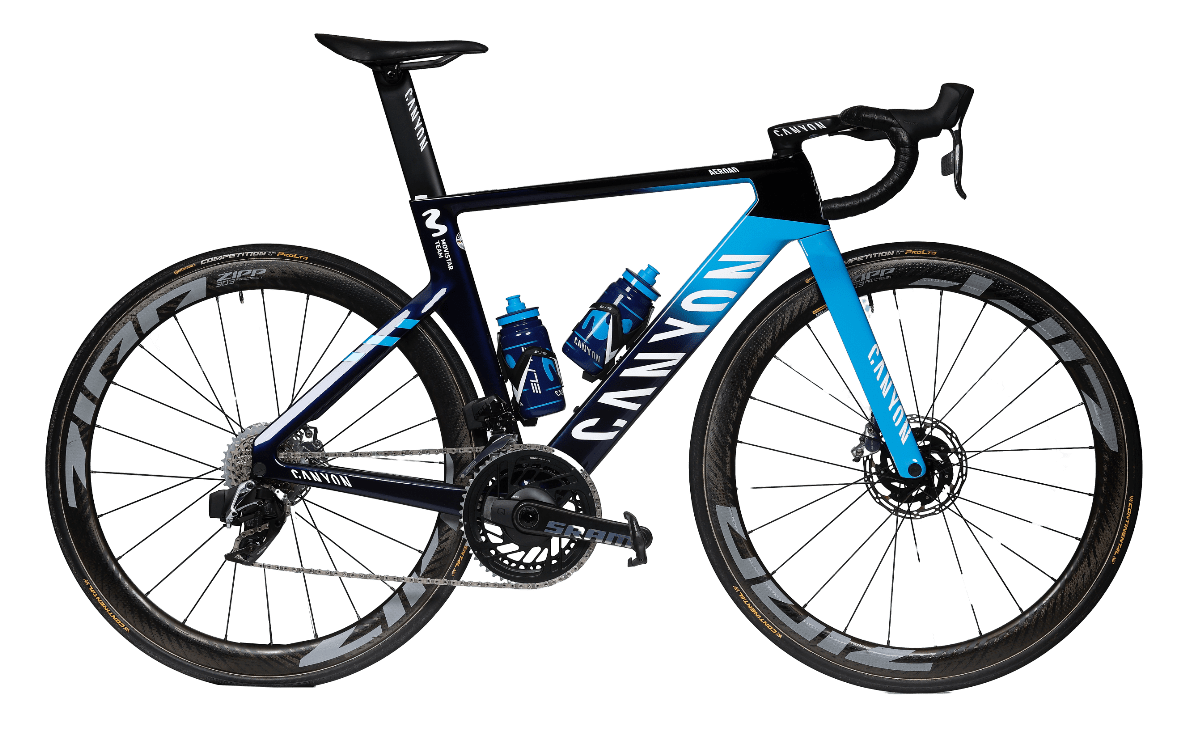 Canyon Aeroad CFR
An aero race bike ready to compete at the very highest levels of professional cycling. Complete system integration and special premium finish, the Aeroad CFR sets a new industry standard for aero road disc performance. This is the Next Level. This is CFR. This is Canyon Factory Racing.
Gobik
Clean lines and vibrant colors that inspire really special clothing, with strength and unique personality. Sustained and sustainable development, always using the materials most suited to any goal, and carefully treated by the expert hands which craft all of our kits. A non-conformist brand, at any day and place.
Abus StormChaser
The right performance for any race: road, cyclo cross, gravel and even crits. The StormChaser is light, comfortable, perfectly ventilated and the ActiCage - a structural reinforcement built into the EPS - offers superb protection.
Fizik Vento Infinito Carbon 2 Movistar Team
Unas zapatillas preparadas al milímetro para la competición y con la mejor transmisión de potencia, diseñadas con un vistoso esquema de color que realza la imagen de Movistar Team.
Fizik Vento Argo 00 Adaptive
Este sillín de punta corta cuenta con acolchado impreso en 3D para mejorar la comodidad en todas las zonas, y está apoyado en una carcasa y raíles compuestos íntegramente de carbono, lo que ahorra peso sin disminuir las prestaciones.
Volvo
Volvo Cars is a global company with Scandinavian roots. Our vision is becoming the most progressive and desirable high-end automobile brand in the world. In that sense, we consider that our global success will be boosted by our philosophy: making people's life easier, while we reaffirm ourselves on our commitment to security, quality and environment. Everything we do at Volvo has a same goal: people. That's why remaining devoted to an easier, safer, more comfortable day-to-day to them is part of our way of life. It's inside Volvo's DNA. We care about what really matters. We help people feel special. And we contribute to making the world a better place for everyone. Volvo is the Movistar Team's official car since 2004.
SRAM
Paved or not, racing or racing home, exploring new roads or new limits, SRAM Road's mission is to provide purpose built, elegant solutions to bring you there. Our brand of advancement is grounded in taking away what's in the way of the experience, and being the antidote to complexity. From eTap AXS to SRAM 1x to HRD, these advancements invite you to new pursuits for anything you'd call road.
100%
The 100% brand has always been synonymous with motocross Americana and has been linked to many iconic moments that have built the roots and history of what is modern motocross. Today, the brand has turned to Downhill slopes, BMX tracks, and also the route, inspiring a whole new generation of racers and asking them the original tag line: How much effort do you give? As part of their impulse to become also a big actor in the world of road cycling, 100% joined the Movistar Team in 2020 as their official partner for Sport Performance Eyewear.